Our office upholstery services include:
Social distancing screens
Office screen divider re-upholstery in cloth, vinyl or leather
New bench seating made to measure
New office screen dividers made to measure
Acoustic panels made to measure, for quiet areas
Bespoke custom made seating, meeting pods and more
Social Distancing Screens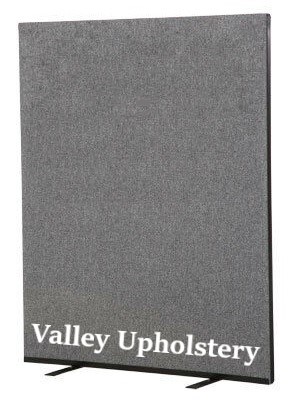 UK Government Guidance for Food Businesses
In these very unusual times we are able to offer a bespoke screen design service.
UK Government guidance for food businesses on social distancing (Updated 18 May 2020) are surprisingly quite clear.
Their advice on social distancing measures applies to everyone.
You need to minimise opportunities for the virus to spread by maintaining a distance of 2 metres between individuals.
This advice applies to both inside the food business and in the external public areas where customers may need to queue.
We can help you to adhere to their social distancing guidance and help to keep your staff and guests safe.
We can tailor make a screen solution for your venue or office. Whether that means creating screens that fit around tables, booths or desks or by helping you to create safe walkways. We are able to offer a whole host of customised solutions to suit almost any configuration.
Multiple fabrics, multiple colours, ,multiple sizes, multiple shapes.
We have a wealth of experience re upholstering all types of office furnishings including: bench seating, banquette seating, meeting room seating, social space seating, board room seating, waiting area seating, reception seating and desk divider screens ; our list is endless.
Fast turnaround times
Whether you have a requirement for 10 screens or 100 we can assist you quickly to complete your project with as little downtime to your business as possible.
For smaller batches we can offer a very fast turnaround. If you want existing screens recovered we can collect or you can bring the items into us yourself or send them via a courier service.
Larger batches of screens can be completed in stages so that it doesn't interfere with your business.
You could let us have a number of screens that you can manage without for a few days, these would then be refurbished and returned to you and we would collect the next batch for re upholstery.
We offer unbeatable value
You can trust Valley Upholstery to deliver nothing but the finest quality service. We only use high quality materials which are available in a wide range of colours and designs to suit any office environment, from corporate to home office.